MBE - ezbuy Self-Collection Centre
ezbuy (owned by EZbuy Holdings Limited) is a dedicated provider of professional online shopping services.
Founded in 2010 by a group of aspiring entrepreneurs, ezbuy quickly rose to become Singapore's first and largest overseas shopping platform. Introduced by Channel 8 news, Channel U Money Week, Straits Times and many other national media, ezbuy and its service become more recognized and popular.
As of today, ezbuy provide shopping service from China, Taiwan, USA for more than 500,000 Singaporeans, 50,000 Malaysians, Australians and Thai people.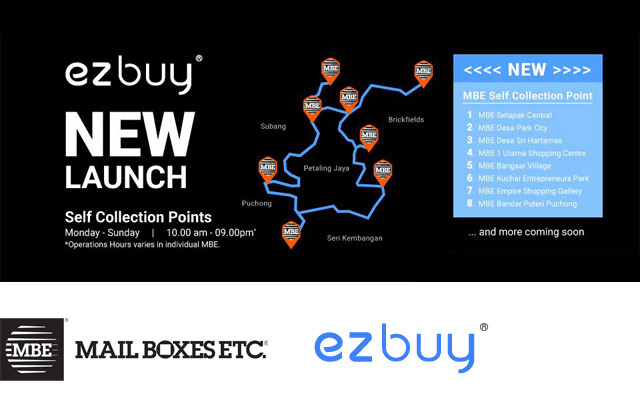 MBE is now partnering with ezbuy to offer customer more convenient in collecting their parcel. Whereby customer can purchase online from ezbuy.my and arrange for their parcels to be delivered to a selected MBE outlet, customer can then come to the outlet and self-collect their parcel within 7 days up to their own comfortable time.
For more information, click here.