MBE 2020 New Year Campaign - Top Spender Contest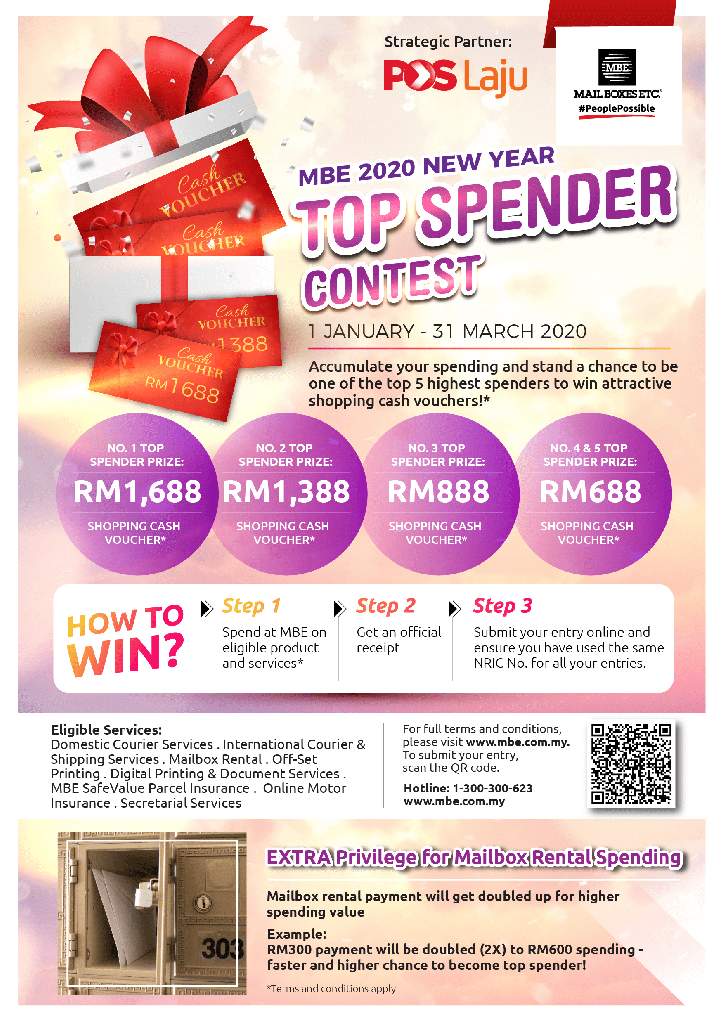 TERMS AND CONDITIONS
MBE 2020 New Year Top Spender Contest is operated by MBE Business Corporation Sdn. Bhd. (Master Licensee of Mail Boxes Etc. Malaysia) under the registered address of No 12 Jalan PJS 8/18, Dataran Mentari, 46150 Bandar Sunway, Selangor, Malaysia (hereinafter called "MBE Malaysia")
1. ELIGIBLE PARTICIPANTS
a. An eligible participant is an adult above the age of 18, as of 1st January 2020.
b. Employee of MBE Malaysia and it's licensed franchisees and other person with the conception and implementation of the Contest, as well as the relatives of the aforementioned persons are excluded from participating.
c. MBE Malaysia reserves the right to verify the eligibility of all participants. Further, MBE Malaysia reserves the right not to award a prize (and to select an alternative winner) if it becomes aware or has any reasonable grounds to believe the winner is not eligible.
d. This contest is open to all participating centres.
2. REQUIREMENTS
a. In order to take part in the Contest, participants are required to spend on our services/products offered at any participating MBE centres.
b. Only ONE (1) submission per receipt sales/docket.
c. You may submit as many entries as you wish.
d. Participants are required to submit entries via our online form that can be found at http://bit.ly/MBE2020NewYearContest and proof of the valid receipt/sales is a mandatory requirement.
e. Submitted entries received by MBE Malaysia other than via the said online form as stated above will be considered as INVALID entries and thus automatically be DISQUALIFIED.
f. The participant is required to submit the entry on the same day as the day of purchase.
g. An extra privilege is given for all mailbox rental payment where the spending value will get doubled up (2X).
Example: RM300 payment will be doubled (2X) to RM600 spending - faster and higher chance to be top spender!
h. Only spending on eligible products and services will be entitled to this contest and MBE Malaysia reserves all rights to change, remove or made addition to the list at any time during the contest period without prior notice.
i. MBE Malaysia reserves all final and conclusive rights to revise, remove, introduce additional terms and conditions and/or to terminate this Contest at any time without prior notice at its sole discretion and will not entertain any such enquiries. In such event, an official notice will be published at MBE Malaysia Official Website accordingly.
3. PERIOD
a. The Contest will run from 1st January 2020 and ending on the 31st March 2020.
4. SELECTION OF WINNERS
a. MBE Malaysia will select the winners within ninety (90) days after the closing date.
b. Selection will be made for the top five (5) accumulated spending on eligible products and services. Five (5) winners will be selected to win the respective prizes.
c. Each participant is limited to win One (1) prize only for the Contest.
d. MBE Malaysia reserves all final and conclusive rights in the selection of winners.
5. PRIZES
a. The prizes consists of One (1) Shopping Cash Voucher worth RM 1688.00, One (1) Shopping Cash Voucher worth RM 1388.00, One (1) Shopping Cash Voucher worth RM 888.00 and Two (2) Shopping Cash Voucher worth RM 688.00 each.
b. Prizes are strictly not exchangeable for cash and MBE Malaysia reserves all final and conclusive rights to decide on the shopping cash vouchers of any brand it may deem suitable.
c. Prizes are strictly NOT transferable or exchangeable.
d. Participants must retain the original receipts submitted throughout the MBE 2020 New Year Top Spender Contest for verification purposes and redemption of prizes. Failure to present the original receipt may result in winning disqualification and forfeiture of the prizes.
e. MBE Malaysia does NOT accept any responsibility for variations in the value of prizes awarded and no subsequent correspondence will be entertained.
f. All prizes are subject to availability, MBE Malaysia reserves the right to offer alternative prizes of equal value, or at a variation of up to 10% lesser than the published prize value.
g. MBE Malaysia will arrange for winners to collect the prizes at MBE Malaysia Headquarters or selected participating MBE centres which will be notified beforehand and will not be held responsible for any prizes that are not collected by the winners for any reason whatsoever.
h. Prize collection period is within 30days from the date we made the first contact with the winner. Unclaimed prize after 30 days will be forfeited and no further correspondence to re-claim will be entertained.
i. MBE Malaysia is not liable for any costs relating to the collection of prizes i.e. travel, accommodation, etc.
6. NOTIFICATION OF WINNERS
a. Winners will be notified via email and/ or WhatsApp/ SMS/ Call.
b. MBE Malaysia is NOT under any obligation to announce the details of the winners but result will be submitted to the relevant authorities for audit purposes if required.
c. Winners will be announced and published on MBE Malaysia Official Website www.mbe.com.my
d. Re-selection will be conducted should a winner is uncontactable or unreachable or there is NO response through email notification within 48 hours from our first attempted communication.
e. Details for prize collection will be sent to winners. All winners must collect at the predetermined location and must make themselves available during the prize collection period.
f. Unclaimed prize after the prize collection period will be forfeited.
g. In agreement to receive the prize, winners are giving consent to MBE Malaysia to publish names, images or any information related to the Contest for our marketing related activities.
7. DATA PROTECTION
a. Personal data relating to entrants will only be used for the specific Contest except as otherwise stated herein regarding the name of the Promo prize winners and for regulatory purposes.
b. By entering this Contest, participants explicitly accepted that personal data are being held by MBE Malaysia in accordance with our Privacy Policy. Personal data relating to participants may be processed by MBE Malaysia, it's licensed franchisees and third party partners to MBE Malaysia. Such processing will be undertaken for the purposes set out in our Privacy Policy.
c. MBE Malaysia reserves the right to use the name and image of winners for publicity purposes without prior notice and consent.